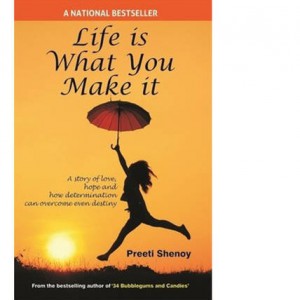 Rs.60
This offer has expired.
Coupon Details
An exciting offers for online shoppers from Amazon India at lowest price online in India.
Buy Life is What You Make it (by Preeti Shenoy) at only Rs.60 + Free shipping lowest price guarantee.
Author : Preeti Shenoy (Best sellers)   Buy Now
---
Product Features : Life is What You Make it
Ankita Sharma has the world in her palms. She is young, smart and heads turn at every corner she walks by. Born into a conservative middle class household – this defines the chronicle of her life. Set in a time when Doordarshan was the prime source of entertainment and writing love letters was the general fad, every youngster dreams of the thrills of college life. And so, her admission into an MBA institute in Mumbai follows. Ankita's story begins here, from her life as a college student. Life seems all sunshine and flowers until a drastic turn leaves her staring at a disturbing path, only because of her own misdoing. Jump to six months later. The sun glistens on a sombre building. Magnetized in view, the words – "Mental Institute". Who is the face staring out of the window?
Author : Preeti Shenoy
Paperback: 224 pages
Language: English